Our team competed last weekend at the Granite State District Event presented by BAE Systems in Salem, NH. Student Layth says, "Loading in on Thursday night with minimal software testing and coding, a lifter that scared us all, and an arm that we had little confidence in surviving the competition, I believe we all were thinking that falling in the top eight would be a lucky run. Oh boy, were we wrong."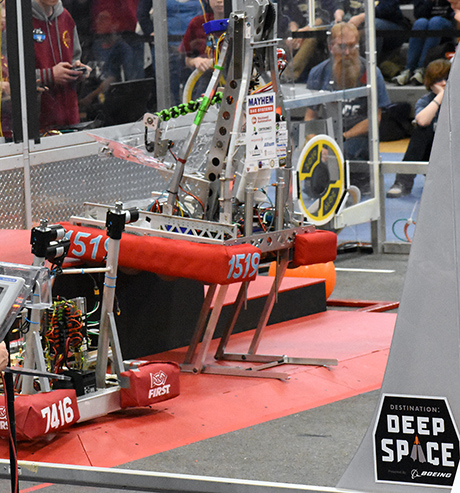 Layth continues, "By the skin of our teeth, we won 17 out of the 18 matches we played, climbed successfully every single attempt, and never once fell out of the top seeded spot. We were super grateful to all of our sponsors to have enabled us to do so well in this competition, and it's given me a secondary boost of energy and motivation that I didn't even know I needed. I am honestly so proud of all of the members of this team for maintaining their sanity, grace, confidence and kindness throughout the competition."
When Mechanical Mayhem seeded 1st after 12 qualification matches, we chose the second-ranked "Outliers" (5687) from Portland, ME, and "Northern Horizons" (7416), a rookie team from Bethlehem, NH, to be on our alliance for the elimination matches on Saturday afternoon. In addition to our gold medal finish, the team won the Gracious Professionalism Award which recognizes an outstanding demonstration of FIRST Core Values such as fairness, humility, sharing, persevering, and a winning attitude.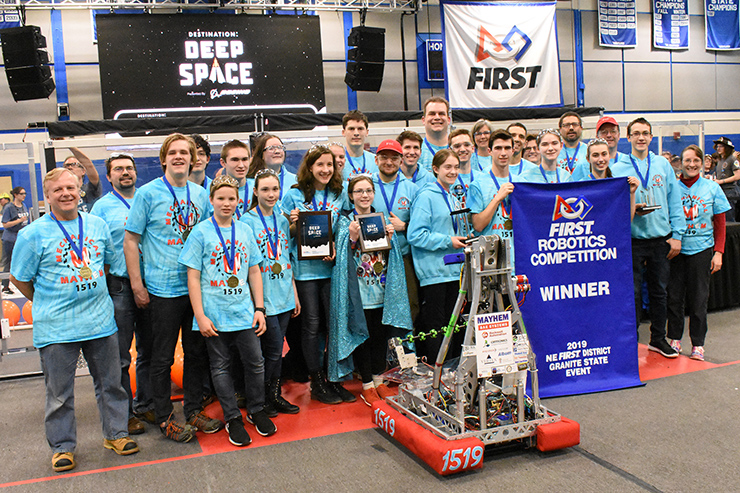 Although we did not win the Chairman's Award at this event, our Chairman's team has worked hard even before the 2019 Kickoff to update our award submission and theme. They made a great push after Stop Build Day to prepare a fun presentation and the required Chairman's Award video. Take a couple minutes to view our 2019 Chairman's Award video:

We look forward to attending the Pine Tree District in Lewiston, Maine on April 4-6!