Mechanical Mayhem is ranked 10th of 209 teams in New England this year, and this is the tenth consecutive year that the team has qualified for World Championship!
On April 11-14 at Boston University's Agganis Arena, 64 of New England's top FIRST Robotics Competition (FRC) teams gathered for the New England District Championship. Even before the competition, we realized the competitiveness of this event would top any other event this year! New England has many astounding FRC teams!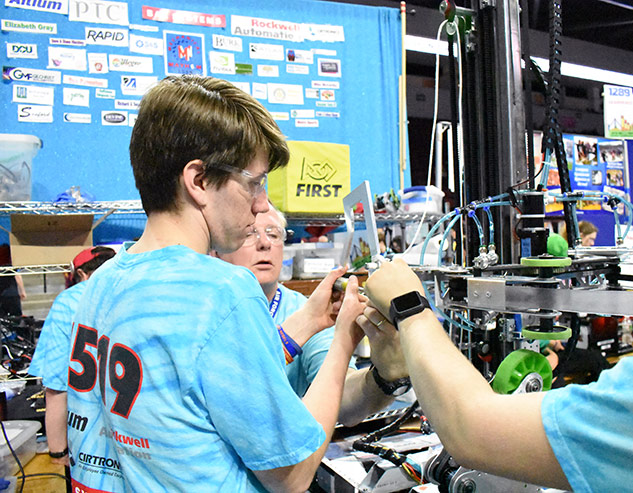 Due to various factors like some mistakes on our part, a challenging match schedule, and the caliber of the teams, we lost quite a few matches, some very close ones. However, we kept persevering and even completed the addition of a climber to our robot to use in the last 30 seconds of the match. The students had worked hard designing this climber and were thrilled to see it work successfully on Friday afternoon for our last three matches of the day! We gradually raised our ranking through these three consecutive wins on Friday and two more on Saturday morning. Our win-loss-tie record was 7-7-0, and we ranked 31 of 64 teams. However, during alliance selection mid-day on Saturday, we were chosen by the 6th ranked captain 3236 Triforce from Franklin, MA, who later chose 558 Elm City Robo Squad from New Haven, CT, to round out our alliance. Sadly, our playoff rounds were limited, since we lost in two quarterfinal matches. We congratulate 195 CyberKnights, 319 Big Bad Bob, and 5846 Southcoast Corsairs on winning the New England District Championship!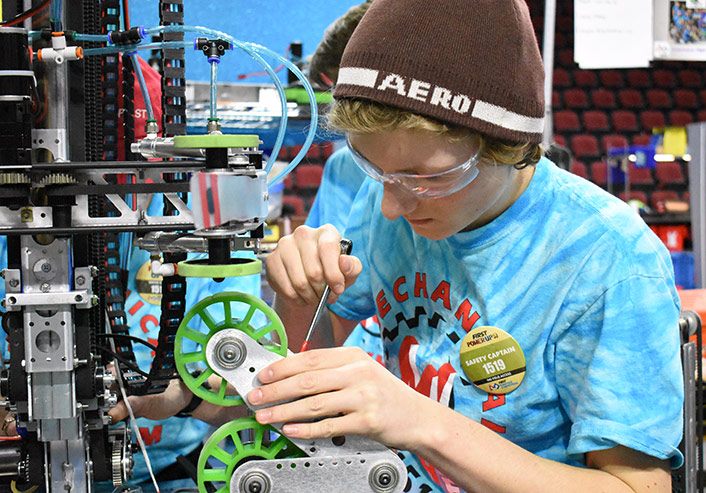 With 64 teams competing at the New England District Championship, we were fortunate to win one of the awards! The team earned the Creativity Award which is a robot award our team has never received before now! In fact, there are five different robot awards (Excellence in Engineering, Innovation in Control, Creativity, Quality, and Industrial Design), and our team has won a robot award now for the tenth time, but all previous awards were in the first two categories (six Excellence in Engineering Awards and three Innovation in Control). It is wonderful to add a new category of robot award to our trophy case!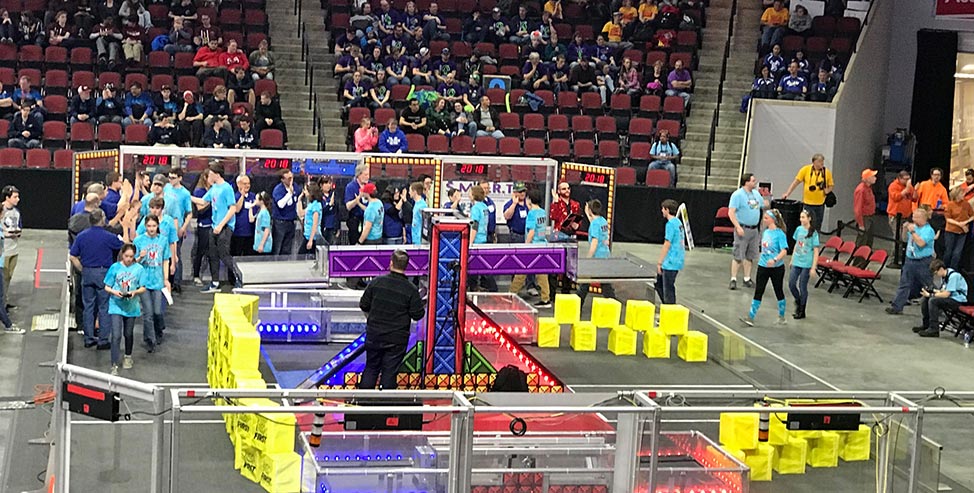 The Creativity Award sponsored by Xerox celebrates creativity in design, use of components, or unique strategy of play. Here is what the judges said about Mechanical Mayhem: "This team identified a driving limitation and aimed for a creative solution. In the Mayhem of the Mechanical design, they spun up a cube manipulator like no other, with a turret shooting in any direction."