While various subteams have been busy designing,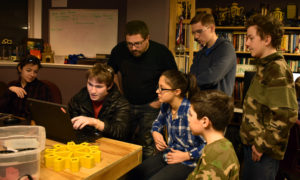 prototyping and building their parts of the robot (drive base, fuel acquisition & scoring, gear acquisition & scoring, climber), the students on the media team put together a short video illustrating what an incredible impact sponsors who support FIRST Robotics teams like ours have on their community.  Enjoy our Fundraising Video 2017!
Mechanical Mayhem looks forward to running our robot on a real field with other FRC teams on February 18 (the last Saturday before Stop Build Day) at the Week Zero Scrimmage hosted by FRC Team 811 at Bishop Guertin High School in Nashua.