On April 13-16, Mechanical Mayhem competed in the New England District Championship hosted at the XL Center in Hartford, CT.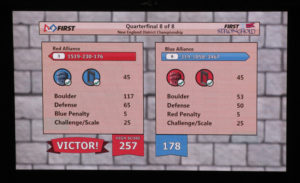 After an intense 12-match qualification phase, Mayhem held 11 wins and one loss, landing Lady Launch-a-Lot (our robot) in the third seed position. As alliance selection began, our team picked The Gaelhawks (230) from Shelton, CT, and Aces High (176) from Windsor Locks, CT. This alliance breezed through the quarterfinals and set a world high score of 257 points in the process. However, our alliance faced tough competition from the second-seeded alliance (The Nutrons, 125; The CyberKnights, 195; and the Aluminum Falcons, 2168) in the semi-final matches that our team will remember forever.
In the first semi-final match, our robot's boulder pickup mechanism was damaged in an ugly collision with an opponent robot. With our harvesting mechanism damaged severely, the drive team decided to switch to defense — a move that our robot drivers had never tried, even in practice. Due to this inexperience, Lady Launch-a-Lot made several defensive errors that eventually cost us the match.
In the second semi-final match, our alliance competed well but lost the match by a mere three points — or so we thought. Thanks to a team alumnus watching the live webcast, Mayhem realized that our alliance had been credited five points fewer than it had earned. Upon discussing the match, the referees decided that a match replay would be the fair way to fix the error. Coincidentally, the match replay needed to be replayed! After nearly an hour of tournament delays, our alliance lost fair and square to these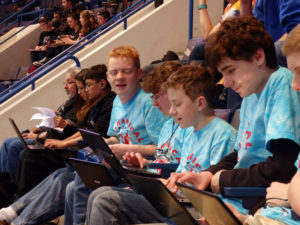 competitors, who eventually won the event. Congratulations to Teams 125, 195, and 2168 on your New England District Championship win!
At the culmination of the Awards Ceremony, Mechanical Mayhem was thrilled to be named one of four Chairman's Award winners out of the 181 New England teams! We would like to extend our sincere congratulations to our fellow Chairman's Award winners: Gaelhawks (230), Infinite Loop (2648), and Robockets (4761). We feel truly blessed and humbled to be included in such an exemplary group of teams.
Our team's performance qualifies us to compete for the Chairman's Award and with our robot Lady Launch-a-Lot at the World Championship in St. Louis, MO, on April 27-30. As this trip comprises a major expense for the team, would you consider sponsoring our team or increasing your sponsorship? It's not too late, and no donation is too small! Thank you for your support.