A thirteen-hour car ride in a cramped van from southern New Hampshire to Raleigh, North Carolina was not enough to quench MAYHEMers' zeal for the long-awaited North Carolina Regional (NCR). On March 14th, fifty-seven teams streamed eagerly into the breathtaking Dorton Arena, ready to fling Frisbees and climb pyramids. Although many of the teams were rookies, their robust robots were impressive and competitive. One team, The Rembrandts (4481), traveled all the way from the Netherlands to compete.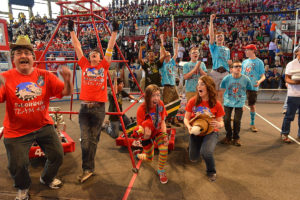 Although the competition was fierce, we ranked 3rd place at the end of seventy-five qualifying matches. Partnered with the number one seed team, The Robodogs (435), and a rookie team, The Robo Eagles (4828), we continued undefeated all the way up to the final match against the 3rd seed alliance, captained by The Blue Eagle Robotics (1539). Taking first place, we were extremely proud of our alliance.
During the award ceremony, we were honored with the Excellence in Engineering Award, sponsored by Delphi. Winning this regional granted us the opportunity to compete at World Championships, hosted in St. Louis, Missouri.